ITF Taekwondo Forms and a few Tangsoodo/Okinawan Karate/Shotokan forms: Basic Form 1 (Kibon/Kihon 1), Chon Gi, Dan Gun, Do San, Won Yo, Ju Go, Jun Gun, Toi Guye, Hwa Rang, Choon Moo, Kwang Gae, Po Eun, Gae Beck, Eui Am, Choon Jang, Ko Dang, Juche, Sam Il, Yoo Sin, Choi Yong, Yon Gae, Ul Ji, Moon Moo, So San, Se Jong, Tong Il, Chul Ji (Naihanchi) Cho Dan, Chul Ji (Naihanchi) Nidan.
Media Interviews
Here is an interview I did for Intellectual Chocolate in September 2018.
Here is an interview I did for Whistle Kick Martial Arts Radio.
Here is a Skype I did with Kyusho Jitsu World Vidcast (Grandmaster Art Mason).
A special thanks and noteable mention for and of people whose exchanges, teachings and sparring encounters helped me out, including, but not limited to: my brother, Anthony Washington, PFC Minh (USMC in 1990), Sensei Bratt Bowman, Orlando Brisco, David Hacker, Edward Dillard, my friend & elemantary schoolmate Otha Washington III and a host of other relatives, students, teachers and friends who took the time to work with me, answer my questions, share ideas and talking me into going back and getting a black belt.
Special mention of Grandmaster Steve Shorts (Viper Strike Taekwondo)
References
Grandmaster Laurence Ford 240-463-5578 ave123jhon@aol.com
Sensei Steve Seaquist, head sensei of Myoyu Dojo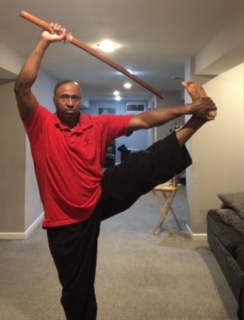 From time to time I have assistance from guest instructors and senior students.