My Studies:
In addition to being exposed to Judo as a toddler with Sensei Edwin Takemori of Maryland Judo Association, learning Tiger Hawk Karate from Sabum John "Hawk" Hawkins at Smallwood Middle School (through Charles County Park & Recreation) from 1984 to 1987, Tangsoodo from Sabum David Dorsey at Smallwood Middle School from 1987 to 1988, and joining the IIMAA in 2012, membership in Kyusho Jitsu World Alliance, a member of the United States Head Of Family Martial Arts Association, since 2019, and having taught martial arts through M-NPPC since March 2008, I have attained the following rankings:
7th Degree Black Belt, Cecil Ryu Taekwondo (my own ITF/Judo Hybrid mixed style), officially recognized and certified by U.S. International Senior Grandmaster Council (Lifetime Membership) March 9, 2019
USISGMC #0019, World Black Belt Club Council USA US International Grandmasters Sokeship Union March 9, 2019 Certificate #0019
United States Head of Family Martial Arts Association International Supreme Elite Warriors Council, Rank Title 7th Dan/Dojunim/Senior Master.
7th Dan World Korean Martial Arts Union International Dan Certificate Dan No. 030219-TKD-7-89 listed as SR. Master Cecil Washington dated 03-02-2019, Instructor Dr. Joe Parrish.
(earlier: 5th Degree Black Belt, Cecil Ryu Taekwondo promoted after a private skill demonstration by anindependent black belt committee, July 8, 2018. (4th Degree Black Belt, Cecil Ryu Taekwondo (my own ITF/Judo Hybrid mixed Independent style), publicly graded by an independent black belt committee, September 13, 2014).)
1st Degree Black Belt and Certified Level 1 Instructor, Kyusho Jitsu World Alliance", December 1, 2016.
2nd Degree Black Belt, ITF and WTF style Taekwondo, from Grandmaster Lawrence Ford (9th dan). September 2008. Grandmaster Ford is affiliated with legendary Simba Dojang in the Washington DC area.
1st Degree Black Belt Maryland Judo Association, April 29, 2012. I was an assistant instructor (as in one of many shodans) at College Park Judo Club in 2011 and 2012. I also trained at Harmony Hall Judo Club under Shodan Steve Manzek from 2000 to 2007, the Myoyu Dojo and at the now defunct Oxon Hill Judo Club, which was part of PG Judo.
1st Degree Black Belt, Viper Strike Taekwondo (ITF style). Instructor: Steve Shorts. 2003. Acted as an assistant instructor 2003-2004. Mr. Shorts was also affiliated with Simba Dojang.
1st Gup, Tangsoodo Brown Belt Tompkins Karate Association. Instructor: Master Gil "Junior" Whitfield. 2000-2003. Participated as a student, assistant instructor and was a black belt candidate.
Blue Belt, Tangsoodo (Jung Su), under Master Brian Costello, 1999? 1998? Somewhere around there.
Yellow Belt in Okinawan Karate (at Welch's Okinawan Karate) under the late Kyoshi Eberhard Welch. in 1995.
Six weeks of Western Boxing while in M.O.S. school as a Marine Reservist in North Carolina, in 1989. Competed in one amateur boxing match.
Limited knowledge and exposure to: Aikido (at New Life Ryu Aikido) Shaolin Gung Fu, Jujitsu, Escrima (Filipino Stick & Knife Fighting), Yoga (with Kathy Rowley).
Taekwondo Forms that I can teach:
ITF Taekwondo Forms (these are what students would be graded on): Chon Gi, Dan Gun, Do San, Won Yo, Ju Go, Jun Gun, Toi Guye, Hwa Rang, Choon Moo, Kwang Gae, Po Eun, Gae Beck, Eui Am, Choon Jang, Ko Dang, Juche, Sam Il, Yoo Sin, Choi Yong, Yon Gae, Ul Ji, Moon Moo. Students only have to know the standard 9 for 1st degree and first 12 for 2nd degree.
Media Interviews
Here is an interview I did for Intellectual Chocolate in September 2018.
Here is an interview I did for Whistle Kick Martial Arts Radio.
Here is a Skype I did with Kyusho Jitsu World Vidcast (Grandmaster Art Mason).
A special thanks and noteable mention for and of people whose exchanges, teachings and sparring encounters helped me out, including, but not limited to: my brother, Anthony Washington, PFC Minh (USMC in 1990), Sensei Bratt Bowman, Orlando Brisco, David Hacker, Edward Dillard, my friend & elemantary schoolmate Otha Washington III and a host of other relatives, students, teachers and friends who took the time to work with me, answer my questions, share ideas and talking me into going back and getting a black belt.
References
Grandmaster Laurence Ford 240-463-5578 ave123jhon@aol.com
Master Steve Shorts (ask for the Viper Strike Taekwondo Instructor at Harmony Hall) 301-203-6040 viper2strike@aol.com
Sensei Steve Seaquist, head sensei of Myoyu Dojo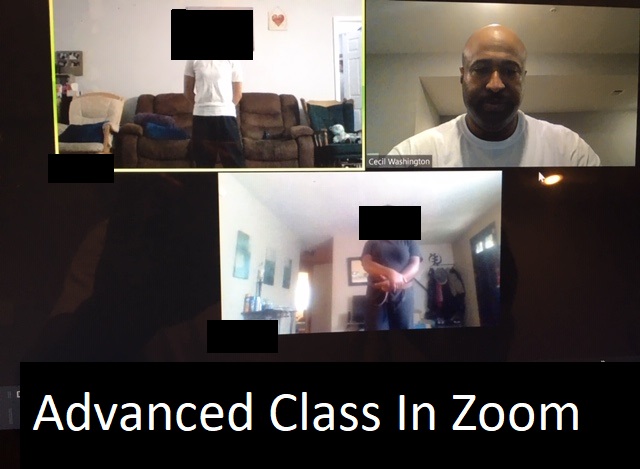 From time to time I have assistance from guest instructors and senior students.